Estimates are for 54″ width fabric with no visible repeats.
1 Yard = 3 Feet = 36 Inches = 0.914 Meters = 91.44 Centimeters.
In case of repeats or matching patterns or design, extra 20-30% will be needed.
In case when pipping involved it is proper to cross cut the material for durability and no puckering, extra material will be needed.
 Yardages are approximate only and we cannot be held responsible for inaccurate information.

We always suggest to order 20% extra as well as to make sure supplier have some extra in stock in case needed. Also good idea to think if any wear and tear and partial upholstery may be needed in the future to order extra at once.
For most jobs and areas technicians can bring vinyl and leather Swatches with them to choose, however for fabric swatches or prices please see vendor web sites bellow and advise which ones you like to see – (we are able to order free swatches that will be mailed to our customers):
http://www.charlottefabrics.com/
http://www.coast2coastleather.com/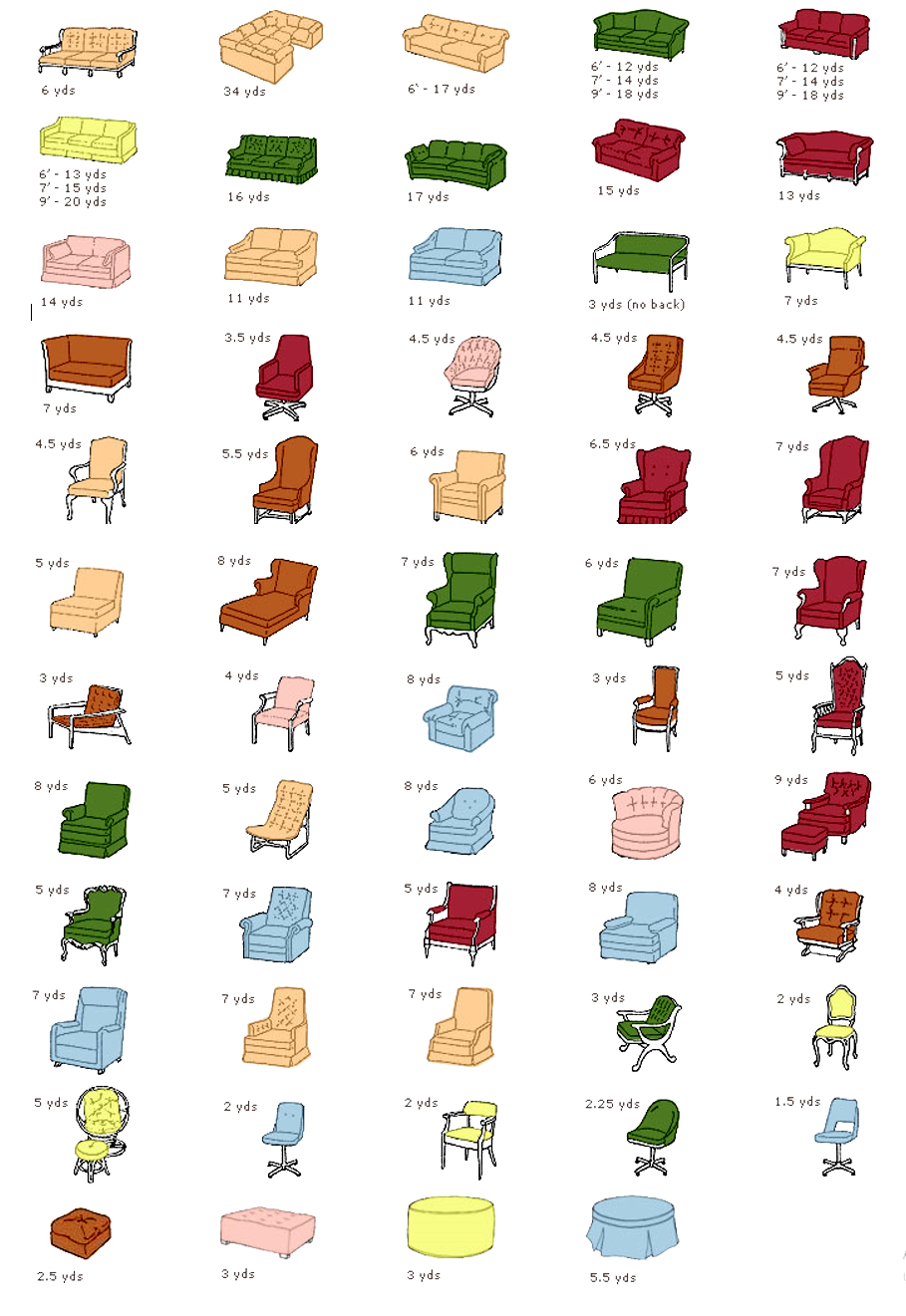 Yardage Requirement Chart:
| | | | | |
| --- | --- | --- | --- | --- |
| BEDDING | Twin | Full | Queen | King |
| Comforter | 6 yds | 7 yds | 8 yds | 12 yds |
| Duvet Cover | 5 yds | 6 yds | 8 yds | 10 yds |
| Bedspread | 9 yds | 10 yds | 11 yds | 15 yds |
| Upholstered Headboard | 3 1/2 yds | 5 1/2 yds | 6 yds | 6 1/2 yds |

DUST RUFFLES
Twin
Full
Queen
King
14″ drop
(gathered or box pleats)
6 yds
6 1/2 yds
7 yds
7 yds
14″ drop
(tailored)
3 1/2 yds
4 yds
4 1/2 yds
4 1/2 yds
21″ drop
(gathered or box pleats)
8 1/2 yds
9 yds
10 yds
11 yds
21″ drop
(tailored)
5 1/2 yds
6 yds
6 1/4 yds
6 1/2 yds

| | | | |
| --- | --- | --- | --- |
| SHAMS | Standard | Queen | King |
| Flanged | 4 yds | 4 yds | 5 yds |
| Ruffled | 6 yds | 6 yds | 7 yds |

| | | | |
| --- | --- | --- | --- |
| PILLOWS | 14-18″ | 19-24″ | 28-30″ |
| Corded | 1/2 yd | 1 yd | 1 3/4 yds |
| Ruffled | 1 1/2 yds | 2 yds | 2 3/4 yds |

| | |
| --- | --- |
| SLIP COVERS | |
| 2 Cushion Sofa | 16 yds |
| 3 Cushion Sofa | 18 yds |
| 6 Cushion Sofa | 22 yds |
| 2 Cushion Love Seat | 13 yds |
| 4 Cushion Love Seat | 17 yds |
| Wing Chair | 11 yds |
| Slipper Chair | 4 yds |
| Ottoman | 3 1/2 yds |