Would you like to change the appearance, design, material, shape, or possibly your furniture is just simply having extensive wear and tear. Perhaps it was damaged in move or by an animal: scratches, pulls or dog bites.
No job is too big or too small – we handle them all, and will find right solutions for any service needed!
All Furniture Services handles all kinds of repairs, restorations, re-padding, and customization of upholstered furniture no matter it is Residential, Hospitality, Medical Facility, Building Lobby or Commercial. Indoor, Outdoor, Marine, On-site or In-shop. We do it all!
Some items may carry sentimental value, be an antique which may need to be preserved, restored and or partially re-upholstered using original material. Our professional team of experienced upholsterers will assist finding best options available.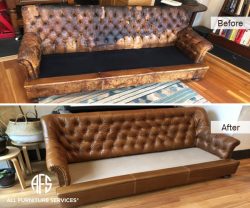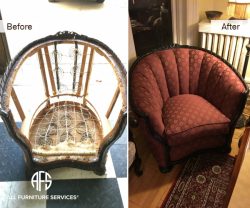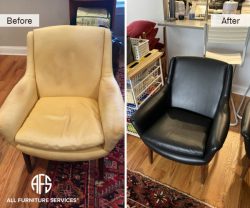 If your furniture is damaged in certain area, channel tufting or buttons came apart, torn, cigarette burn, discolored or else, there may be a possibility of repair, or you can contact original manufacture and see if replacement upholstery part available and order it so we can install/ replace. Otherwise we may be able to get the same material (if available) in such case we can replace damaged area of the upholstered part. In case original part or material is not available we may be able to use outside back or pillow to partially re-upholster, repair or color match – dye such area. If seam open or torn medics can reproduce original manufacture stitching by hand and or take apart bring to shop for machine stitching, backing or re-enforcement.
AFS team also can assist in determining proper padding, cushions, support system, straps, jute webbing, springs or pad and web as well as replace cushions and or add additional premium soft, medium density or firm foam, Dacron or feathers to improve its appearance and comfort.
Wrinkles can be effectively released, improved will depend on material. In some cases can be reinstalled or tightened, in other cases shrank by heat, Steam procedure and/or combination of adding padding correcting design or shape, firmness along.
We also are experts in material codes, types and accordingly in cleaning, dyeing, stain, mark removal, will it be an ink mark, blood stain, red wine, urine or food it is important to know the chemistry well to apply proper cleaning procedure and methods.
Leather and Vinyl can be also be patched, filled, backed, color matched and dyed as well as re-reproduce the grain, distress, cleaned and conditioned, waxed or ink stop applied restoring and protecting to its glory.
Clean or Protect: All Furniture Services also provide service in extraction and steam cleaning, dry, solvent s-code cleaning, but most importantly we also offer Scotchgard, fabric defense, fire retardant and much more.
Complete Re-upholstery

Partial Re-upholstery

Tear Repair
Spot Cleaning
Wrinkle Release
Cigarette Burn Removal
Hand Stitching
Fabric Defense
Fabric Scothgard
Fabric Shaving Pilling

Padding & Cushions
Machine Stitching

Re-Stuffing Patching

Cleaning and Conditioning

Re-dyeing
Scratch Repair
Discoloration
Restoring
Fabric Fire Retardant

Color Matching
Wrinkle Release
Estimates are for 54″ width fabric with no visible repeats.
1 Yard = 3 Feet = 36 Inches = 0.914 Meters = 91.44 Centimeters.
In case of repeats or matching patterns or design, extra 20-30% will be needed.
In case when pipping involved it is proper to cross cut the material for durability and no puckering, extra material will be needed.
Yardages are approximate only and we cannot be held responsible for inaccurate information.
For most jobs and areas technicians can bring vinyl and leather Swatches with them to choose, however for fabric swatches or prices please see vendor web sites bellow and advise which ones you like to see – (we are able to order free swatches that will be mailed to our customers):
http://www.charlottefabrics.com/
http://www.coast2coastleather.com/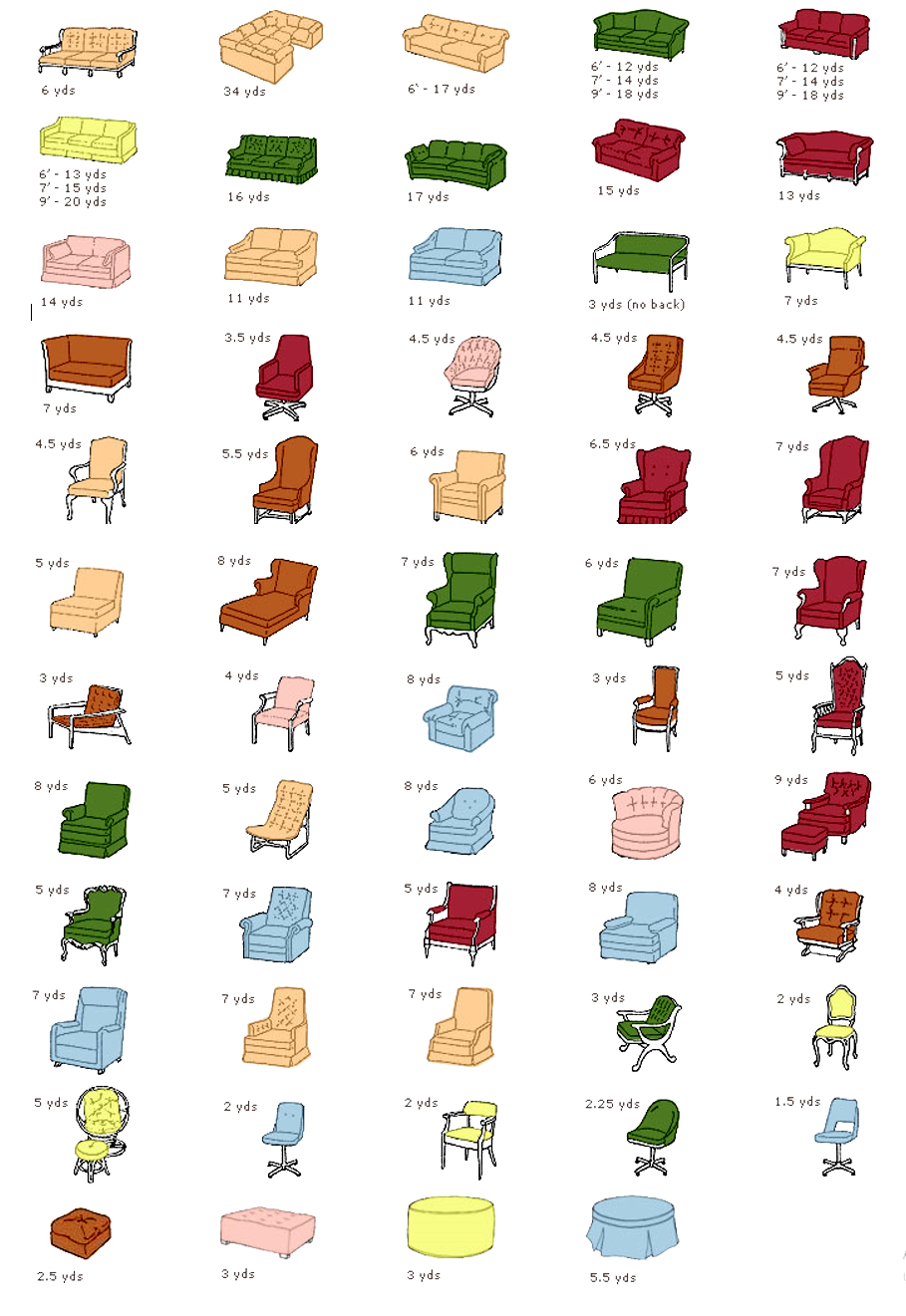 Yardage Requirement Chart:
| | | | | |
| --- | --- | --- | --- | --- |
| BEDDING | Twin | Full | Queen | King |
| Comforter | 6 yds | 7 yds | 8 yds | 12 yds |
| Duvet Cover | 5 yds | 6 yds | 8 yds | 10 yds |
| Bedspread | 9 yds | 10 yds | 11 yds | 15 yds |
| Upholstered Headboard | 3 1/2 yds | 5 1/2 yds | 6 yds | 6 1/2 yds |

DUST RUFFLES
Twin
Full
Queen
King
14″ drop
(gathered or box pleats)
6 yds
6 1/2 yds
7 yds
7 yds
14″ drop
(tailored)
3 1/2 yds
4 yds
4 1/2 yds
4 1/2 yds
21″ drop
(gathered or box pleats)
8 1/2 yds
9 yds
10 yds
11 yds
21″ drop
(tailored)
5 1/2 yds
6 yds
6 1/4 yds
6 1/2 yds

| | | | |
| --- | --- | --- | --- |
| SHAMS | Standard | Queen | King |
| Flanged | 4 yds | 4 yds | 5 yds |
| Ruffled | 6 yds | 6 yds | 7 yds |

| | | | |
| --- | --- | --- | --- |
| PILLOWS | 14-18″ | 19-24″ | 28-30″ |
| Corded | 1/2 yd | 1 yd | 1 3/4 yds |
| Ruffled | 1 1/2 yds | 2 yds | 2 3/4 yds |

| | |
| --- | --- |
| SLIP COVERS | |
| 2 Cushion Sofa | 16 yds |
| 3 Cushion Sofa | 18 yds |
| 6 Cushion Sofa | 22 yds |
| 2 Cushion Love Seat | 13 yds |
| 4 Cushion Love Seat | 17 yds |
| Wing Chair | 11 yds |
| Slipper Chair | 4 yds |
| Ottoman | 3 1/2 yds |