<=   We have a solution for every furniture problem, just call us!
All Furniture Services® will handle your furniture professionally on-site and off-site.
Medics at AFS Repair and Restore work on all types of furniture, including wood, veneer, laminate, fabric, leather, vinyl, metal, glass, plastic, film, acrylic, stone, ceramic work, and much more.
No matter the type of furniture – residential, commercial & hospitality, medical, wooden, upholstered, stationary, functional, mechanical, power-operated, mechanism-controlled, reclining, rocking, swiveling, integrated with automation, lights, chargers, massager's, heat components, multi-function controls and more, the All Furniture Services team has got you covered.
Contact us now. No job is too big or too small – we handle them all.
At All Furniture Services, we always:
send the best qualified professional and experienced technician for the type of job requested.
technicians carry many parts and hardware to complete any job at the first time as best as possible.
accommodate your time and convenience- early mornings, evenings and weekends.
give you available, helpful, professional customer service 24/7.
utilize state of the art equipment and supplies with guarantee on all jobs done.
provide care and maintenance instructions and support for our customers.
offer competitive prices and flexibility.
assist in estimates, insurance adjustments, claims and settlements.
same day, and emergency services available.
fully insured and licensed and able to satisfy any building or facility requirements.
Our dedicated, professional team is capable of handling any furniture needs you have and can provide immediate on-site repairs as well as repairs that need to be moved to our workspace.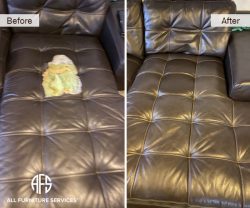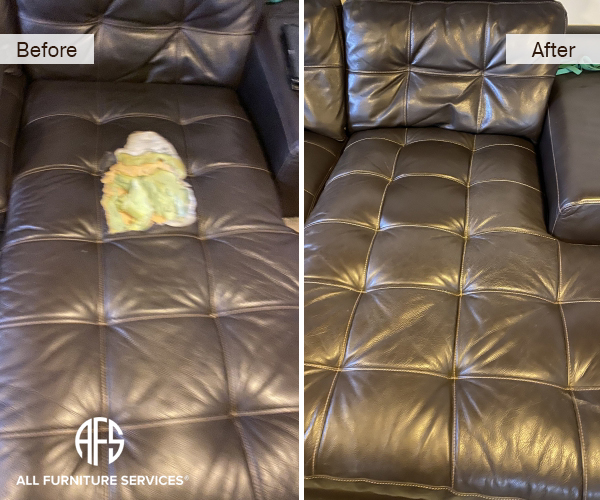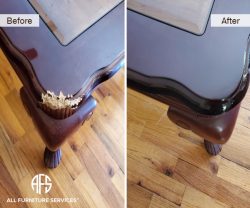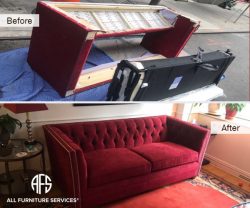 Everyone has furniture they truly cherish, either due to sentimental value, necessity, or a significant investment. That's why it's crucial to be aware of the best furniture services company available.
When you need your furniture handled with the utmost care and professionalism, give us a call at All Furniture Services.
Our Services: Call on us today for the best in professional furniture solutions like:
Inspections, Reports, Quotes and Estimates
Painting and Refinishing
Caning
Cause Determination
Cleaning, Condition and Protection Guard
Color Matching
Disassembly and Re-Assembly
Electrical and Light troubleshooting
Leather and Vinyl Dyeing
Parts Installation
Pieces of Art Restoration
Power and Manual Sleeper
Recliner Mechanism Parts
Glazing, Distressing
Upholstery, Stitching and Seam Repair
AFS finds ways to make your furniture serve you longer and better. We can help you save on replacement costs, alter its appearance, modify its size or shape, change the material, and add details that may prove to be a better option than replacement.
All Furniture Services, quality, reliable, affordable, and timely services.
 Upholstery Services

Complete Re upholstery
Seam Separation
Patching
Fabric Pull Repair
Webbing
Tufting / Buttons
Micro-Fiber Fill
Parts Installation
Piping / Nail- Heads
Partial Re-upholstery
Tear Repair
Spot Cleaning
Full Machine Cleaning
Animal Damage Repair
Customization / Design
Wrinkle Release
Cigarette Burn Removal
Hand Stitching
Machine Stitching
Re-Stuffing / Re-Padding
Touch-Ups and More!

Leather & Vinyl Services

Upholstery / Repairs
Cleaning and Conditioning
Antique / Restoration / Patching
Color Matching / Dyeing
Cigarette Burn Removal
Scratch Repair
Fading / Discoloration
Hand Stitching
Machine Stitching
Re-Stuffing / Re-Padding
Desk Tops / Gold Embossing
Peeling / Flaking / Cracking
Dye Transfer
Color Change
Distress / Perforated
Wear and Tear
Ink / Nail Polish Removal
Animal Damage / Pulls
Aniline Dye / Waxing
Parts Installation
Touch-Ups and More!

Wood & Other Services

Repairing / Restoring
Striping / Refinishing / Painting
French Polishing / Finishing
Cane / Caning / Wicker
Veneer / Laminate
Replicating / Making Parts
Bubbling / Lifting
Cleaning/Polishing/Waxing
Glass / Mirror / Acrylic / Plexiglass
Metal Work Welding
Sleeper / Recliner Mechanisms
Power Systems Controls
Art / Frame / Statue Restoration
Ceramic / Stone / Porcelain
Painting Restoration
Indoor / Outdoor
Parts Installation
Heat/Liquid Mark Removal
Scratch Removal
Dent / Gouge / Crack Repair
Frame Repair and More!