Do you have otherwise beautiful wooden furniture that's marred by scratches, dings, water stains—or worse? Do you have a burn mark or water ring on your coffee table or desk? Is your dining room set chipped on delivery? Your fine woodwork isn't ruined. You just need the talented craftsmen at All Furniture Services® to perform their touch-up magic!

We're able to provide an immediate on-site, in-home, in-store or in-shop repairs to wood, metal, leather, vinyl, fabric, upholstery, and mechanisms.

All Furniture Services®—one of America's best furniture repair companies, provides award winning wood and metal refinishing, painting and restoration services to residential and commercial customers. We're one of the top repair and restoration companies recommended by many top furniture manufactures, designers and retailers.

Our state of the art methods and products are chosen to make repairs permanent, invisible and to return furniture to its original or even better condition. If you have baby furniture in need of refinishing, you can rest assure that we only use non-toxic, quick drying finishes to assure your child's safety.

Whether you need a repair or refinishing the credenza, dresser, table, TV stand, desk, wall unit, chair, bookcase, bed, hutch or other pieces, you can count on our expert craftsmen will revitalize your valuable furniture and wood or metal surfaces, restoring and enhancing their natural beauty. They'll begin by carefully assessing your needs, giving you proper consultation, discuss range of options and prices. Then, depending upon the extent of damage, we'll carefully repair any chips, cracks warped or damaged surfaces, clean, fill-in, touch-up, color or sheen match, french, hand or spray finish, restore, sand, strip, paint, resurface, refurbish or fully restore your item to assure a perfect, flawless finish.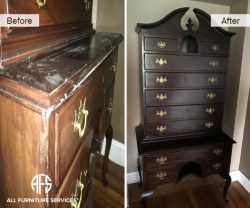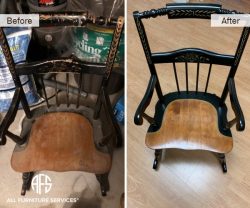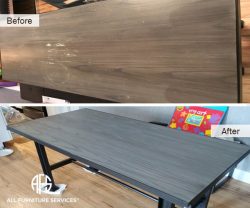 Medics at AFS work with all types of finishes for indoor and outdoor —and not just in residences, but also in commercial projects, restaurants, hotels and watercraft!
AFS professional technicians are highly qualified at handling other restoration tasks, too: touching up nicks and chips, laminate and veneer work, frame repairs, even crafting new pieces or dyeing leather tops. We use best technologies, have great experienced craftsman's, proper supply and the latest equipment on hand (Lathe, Mill & Duplicator), allows us to replicate, duplicate, manufacture and repair almost any broken or missing parts, legs, spindles, finials, trims, moldings, extensions, curved and shaped metal, glass and much more.
Technicians also repair and restore gouged, blemished, scratched or dented hardwood floors, doors, and wooden elevator or wall panels.
We do our best to work with customers schedule for utmost convenience, best prices and guaranteed workmanship.
Furniture is bulky, it comes in different shapes and sizes, not always easy to transport, also important to mention antique and hardwood items are not good with fast climate, humidity level change and such could cause from warping to cracking, shrinking and expanding, joint separations, making things like wooden slides or tracks not to operate properly, doors or drawers not to close or open right, leather to develop spews, because of those details most repairs and services offered to be done on-site at customers location, and only large complete redo, full re-upholstery, refinishing or complex / unique jobs handled in shop. If furniture requires in-shop work we can certainly arrange pick-up and delivery.
We'll do everything possible to earn your trust—and deliver the best service you'll ever experience.