All Furniture Services Medics can restore that old worn leather to look great and brand new, if needed we will replace a section or do complete re-upholstery. We can re-grain, color match and re-dye the color to bring out the brightness that it once used to have.
Leather is one of the nature's wonderful durable goods. The tanning process gives the leather resistance to wetting and keeps the leather supple. Leather's high tensile strength makes it a strong, flexible material. It will stretch and then return to retain shape. Leather breathes and will assume your body temperature rapidly as it allows air and water to pass through its structure.
Leather is susceptible to three types of damage: stiffness and surface cracking caused by the drying out of the leather's natural oils, fiber discoloration as a result of accidental spills or sun exposure, and scuffing or tearing usually occurring from use.
AFS offer a wide range of cleaning and repair services for home furniture, office furniture, hotels & restaurants, medical facilities, and pretty much any leather or vinyl upholstery interior, antique trunks, goods or items.
Color matching & Re-dyeing to eliminate fading and restore the color, seal it, protect it
Pet damage such as chewed leather repair and odor elimination, cat pulls and scratches
Restoration, replacement, partial or full re-upholstery
Cigarette burns, sliced by knife damages, cuts and tears of all sizes
Elimination of stains, spills, ink marks, water & heat rings, etc.
Repair of sagging cushions using hypoallergenic down substitute, feather and down, horse hair, soft polyester, and foam, pad and web
Repair and replacement of springs in beds, couches, chairs, and sofas
Reinforcement & repair of furniture frames (wood, glass, and metal components as well as mechanisms)
Restoration and cleaning of wood, plastic, glass, marble, and other hard surfaces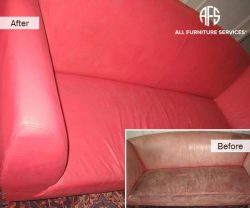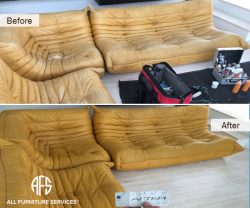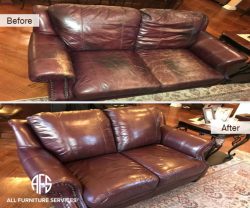 If your furniture is damaged in certain area, channel tufting or buttons came apart, torn, cigarette burn, discolored or else, there may be a possibility of repair, or you can contact original manufacture and see if replacement upholstery part available and order it so we can install/ replace. Otherwise we may be able to get the same material (if available) in such case we can replace damaged area of the upholstered part. In case original part or material is not available we may be able to use outside back or pillow to partially re-upholster, repair or color match – dye such area. If seam open or torn medics can reproduce original manufacture stitching by hand and or take apart bring to shop for machine stitching, backing or re-enforcement.
We are the team of professionals, who knows everything about the leather! A group of top specialists that can skillfully care for, clean, and repair leather, suede, vinyl, upholstery, fabric, velour, microfiber, plastic, wood, stone, mirror, ceramic, porcelain, acrylic, Plexiglas, marble, glass, metal and other materials/surfaces of your furniture as well as auto, aircraft, boat, RV and other. In the past decades, we have restored everything from jet aircraft & Rolls-Royce interiors to pet damaged sofas, leather desk tops, designer pieces and seemingly destroyed antique pieces of art.
Been more than few decades in a business our company developed a reputation for integrity, competence and attention to detail. Our quality and integrity have been recognized by NBC news, New York Magazine, Time Out New York, UN organizations and more. We are a proud recipient of Angie's Super Service award for many years and counting, and much more.
Techs can resurrect anything that has been made of leather and has been neglected, to its former glory!
We stand by our work and will guarantee that you will be happy with the finishing product/result.