Our professional team is at the forefront of antique and modern furniture repair and restoration. We work with all type of materials and finishes including: Metal, Glass, Mirror, Stone, Ceramics, Porcelain, Lucite, Acrylic, Plexiglas, Plastic, etc.
All Furniture Services® provides professional services to all: Manufactures, Stores, Retailers, Designers, Vendors, Warehouses, Medical Facilities, Offices, Hotels, Restaurants, Construction, Moving, Logistics, Delivery, Warranty, Insurance, Protection Plan Companies as well as Individual Customers…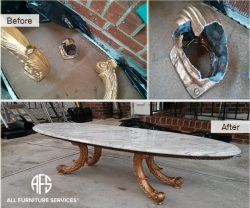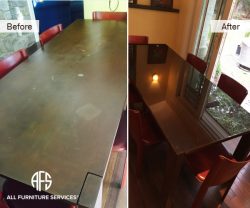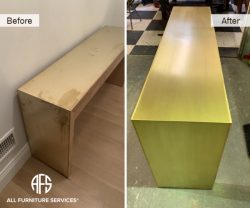 As we work with so many different type of materials and customers, the professional team of the company is capable of handling not only on-site or in shop repairs and restorations but also providing clear/dark/toned/color/low iron/starphire or antiqued glass or mirror that needs to be beveled, bowed, curved, shaped, silvered, ogee edges. Welding all type of metals, doing transparent weld/glue of Lucite/Plexiglas/Acrylics, polishing and buffing, restoring ceramics and porcelain pieces of art, recreating unique missing or needed parts, customizing shape and size, painting, finishing, brass or chrome coating as well as adding necessary sealing, protection, gilding, patina or distress details.
Methods and products are chosen to make repairs permanent, invisible and to return item to its original or even better condition.
Will It be refurbishing sleeper, recliner, bed or chair mechanism, restoring brass or bronze table, repairing iron or steel bed, resizing height of the chairs or tables, replacing curio bowed glass, drawer front or antiqued mirror details, adding clear, brown, bronze, silver or grey glass beveled top, re-gluing, polishing, disassembling or assembling acrylic plexiglass piece, welding broken all type of metals, reattaching leg or rung, creating additional reinforcement or supports, scratch removal or simply refinishing/painting – we do it all!
We do our best to work with customers schedule for utmost convenience, best prices and guaranteed workmanship.
WE NOT ONLY WILL MEET YOUR EXPECTATIONS, WE WILL EXCEED THEM WITH OUR HIGH LEVEL OF STANDARDS.