Do you represent a business with furniture services needs?
There's no better furniture company to handle your business needs aside All Furniture Services®. Open a free Wholesale Service Account with us for easy access to create work orders, see logs of calls, scheduled dates, invoices, reports, before and after pictures, signatures, as well as get the lowest possible prices with the best service experience.
Our customized, user-friendly system will provide you with convenience, live updates, speed and record for all your service needs.
Fill this form and we will email your credentials, account/portal login user name and password shortly:
We promise you the best service experience.
All Furniture Services® provides professional services in multiple states and over 6000 zip codes to all: Manufactures, Stores, Retailers, Designers, Vendors, Warehouses, Medical Facilities, Offices, Hotels, Restaurants, Construction, Moving, Logistics, Delivery, Warranty, Insurance, Protection Plan Companies as well as Individual Customers.
The Professional Team of the company is capable of handling, as well as carrying everything necessary to provide immediate on-site: Inspections, Reports, Cause Determination, Estimates, Repairs, Antique Restoration, Upholstery, Cleaning, Color Matching, Re-Finishing, Painting, Leather and Vinyl Dyeing, Parts Installations, Antique and Pieces of Art Restoration, Caning, Disassembly and Re-Assembly, Electrical and Light troubleshooting, Lift Power or Manual Sleeper and Recliner Mechanism Parts, Wood, Veneer, Laminate, Metal, Glass, Plastic, Film, Acrylic, Stone Work, and much more.
Open A Business Account To Enjoy These Options
Direct Access to our system, if capable and needed synchronizing system portals.
Providing best through and professional representation you can get with customer ability to reach us 24/7.
Once your clients' information is in our hands, we maintain all the rest from start to completion.
We send best qualified professional and experienced technician for type of job requested to achieve and provide the best possible results for every job.
Customers contacted to be scheduled within hours, rescheduling when and if customer need at any time.
Direct Scheduling with some synced portals/systems.
Reaching your customers via phone, email, or text providing the best and desired means of communication for each customer.
Best Turn Around Time and Best Completion Rate Guaranteed.
Competitive Prices and Flexibility.
Double-checked reports ensuring all information, possible options in place as expected, and no mistakes or missing details.
Jobs that require in-shop work will be handled as needed or requested.
State of the art equipment and supplies, from our large inventory of stock.
Technicians carry many parts and hardware to complete any job the first time as best as possible.
We provide overall, before, after, tag, pictures and measurements as well as options of us supplying parts when possible
Tech Personnel are always uniformed appropriately and take all safety and protection measures set by the industry, our accounts and us.
Providing all needed required license, insurance or workers competitions to fulfill any building facility requirements.
Automated system notifications and logs as well as ability to check any service at any time on-line from any device or by phone.
Getting repeat issues log/comments and ability to track any repeat issues to help with improving and preventing any issues and quality control.
We service locations in most US metro areas and can travel almost ANYWHERE in the US and Canada within 24 hours
We have unbeatable experience as well as system, rules and procedures that ensure we handle everything beyond the expectations of our accounts and customers. Sign up with us today.
All Furniture Services® is a member of IHFRA (International Home Furnishings Representatives Association), attend all events and in good relationship with entire industry. We provide valuable information to our accounts in order to help improving products quality, packaging and handling.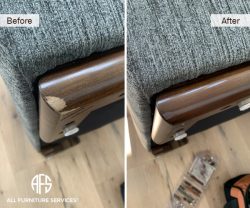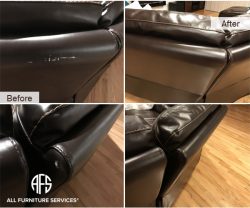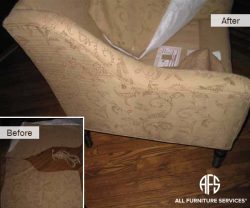 Our professional team handled over million of items/services for: repair, restoration, touch up nicks, dents and scratches, color matching, refill chips, recreate shapes, fill-in scrapes, glue joints, re-gluing, reinforcing, recreating, caning, dyeing, gold leaf, gilding, open seam, animal pet damage, cat pulls, defective mechanisms, recliner motors, pull handles, remotes, adapter, controls, connectors, gas cylinders, struts, dampers, swivel bases, rockers, absorbers, release system, knobs, cables, frames, casters, chair base, slides, fasteners, levelers, glides, stretch, zippers, pneumatic systems, snaps, hooks, hinges, damaged and broken frames, sagging seats, foam, padding, Dacron, broken springboards, springs, webbing, rips, cuts, holes, burns, stains, ink marks removal, water and heat rings, spills, smoke and water damages, enhancements, worn discolored finishes, laminate, veneer, grain matching, polish, refinish, upholstery, polishing, cleaning, steaming, extraction, French polishing, buffing, waxing, knock down, take apart, dismantle, disassemble, (disassembly / take a part), assemble, handyman service, etc.
Furniture is one of the most use items, made from different materials, serves different means of use: residential commercial, hospitality, medical, stationary, functional, mechanical, power operated, mechanism controlled, reclining, rocking, swiveling, integrated with automation, lights, chargers, massage units, heat components, multi-function controls and more, because of such differences no one person or freelancer can be proficient and have experience enough to handle them all that is another reason why we are superior in what we do as we always assign/send the best qualified professional technician for the task.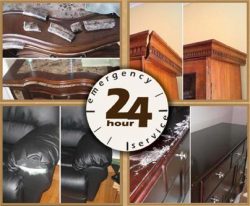 Servicing multiple states and having technicians that specialized in different materials and fields as well as having multiple shops working from upholstery to finishing, metal work, antiqued mirror, glass and stone work, plastic and acrylic, pieces of art or antique restoration to general repairs, installations, teams that handle disassembly and assembly to fit items that have difficulty to pass into small doorways, elevators, stairways like couch, sofa, sectional, bed, headboard, armoire, china, as well as carpentry teams that handle wall, floor, ceiling repair work allows us to handle everything needed by best rules and procedures that were set in place and constantly improving by years and hundreds of thousands services provided to our customers and business accounts/partners.
As we service many logistics, shipping, final leg delivery, moving and insurance companies, we have teams that handle repairing and restoring, painting and finishing scratched, gouged or dented walls, hardwood floors, doors, elevator, brick, metal or wood panels, light fixtures, picture and mirror frames, mounting brackets, cabinetry, fountains and more.
WE NOT ONLY WILL MEET YOUR EXPECTATIONS, WE WILL EXCEED THEM WITH OUR HIGH LEVEL OF STANDARDS.
OUR PRIMARY GOAL IS TO SERVICE YOU AND YOUR CUSTOMERS IN A MANNER THAT SETS US APART FROM OTHER COMPANIES.