The beauty of furniture care is that it helps to protect your investment.
Caring for furniture is easy. Following a few simple guidelines will help extend the life of your furniture.
Always dust with polish moistened cloth. Dust will scratch the furniture surface if not removed, keep in mind that scratching may occur with dry dusting. Use soft, clean cloth that won't scratch the surface. Avoid coarse or scratchy materials or fabrics.
Avoid using soap and water on furniture. Water can penetrate the finish and raise the grain on wood, causing damage.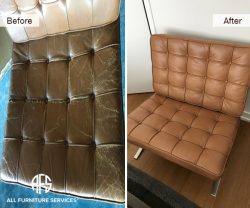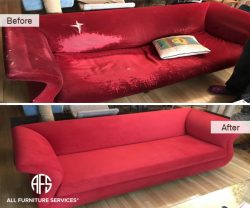 Leather Care and Cleaning Tips:
Once per week: Dust your furniture weekly or when you dust the other items in the room. You can lightly dampen a soft cloth with the Leather Softener/Cleaner and wipe the surface. One of the great benefits of leather is that you can fully remove the dust particles from the surface, making it ideal for dust-sensitive person.
Four times a year: Fully clean your furniture at least every six months. For furniture in high use rooms you should clean them every four months. It is important that you pay particular attention to clean all high usage and skin contact areas like: arms, seats, front railing, back cushions and inside backs.
After full cleanings or spot cleaning, apply the Leather Protection Cream/Softener/Cleaner to renew the original protection level. Be sure to reapply it to all high usage and skin contact areas.
These steps should take very little time and will make a dramatic difference in the overall appearance of your leather furniture. It is our desire that you have a trouble-free, enjoyable experience with your leather furniture.
Fabric Care and Cleaning Tips:
Weekly vacuuming or light brushing helps to remove soil and prevents the embedding of dirt between the fibers. Rotate and turn your cushions after vacuuming to prevent excessive wear and soil patterns. Avoid placing newspapers on fabric since the ink could permanently stain the fabric. Avoid the use of dyes, acids, corrosives, paints, inks, nail polish and removers around your furniture. Never Remove cushion covers for dry cleaning or machine washing even though they have zippers. Keep upholstered furniture away from direct sunlight to avoid fading. Periodic cleaning by an authorized technician will ensure that gradual buildup of soil, perspiration and oils does not cause permanent damage and shorten the life of your fabric upholstered furniture.
Spot Cleaning: Know your fabric's cleaning codes for the type of cleaner to be used and always pretest in an inconspicuous spot.
Cleanability Codes: W, S, W/S and X
Code "W" Fabrics: Synthetic fibers (Acetate, Herculon, Nylon, Olefin, and Polyester). Use the foam only from water based cleaning agents such as mild soap or use non solvent upholstery cleaner.
Code "S" Fabrics: Cellulosic or protein fibers (cotton, Linen Rayon, Silk or Wool). Other "S" coded fabrics are Acrylic, Damask, Tapestry, Brocade, Denim, Velour, Chintz and Plaid (cotton/olefin blend). Spot clean using a mild water-free solvent or dry cleaning product.
Code "W/S" Fabrics: Spot clean with a mild solvent, upholstery shampoo or mild soap / detergent.
Code "X" Fabrics: Clean this type of fabric only by vacuuming or light brushing. Do not use water-based foam or solvent based cleaning agents of any kind.
Wood Care and Cleaning Tips:
For its weight, wood is one of the strongest materials known to man. Wood is a natural product, and therefore, each piece is different and unique in depth, richness of texture and grain patterns. Quality wood furniture provides warmth and creates a rich, elegant ambiance while providing gentle comfort. If properly cared for, wood increases in value with age and develops its own patina or surface appearance of softness and mellowness.
Moderate to serious damage of fine wood furniture requires the help of a professional.
For light condition and when professional services cannot be hired or simple every day wear try these remedies. Always first test in not visible area as improper application may cause damage, AFS is not responsible for any information Care & Cleaning Tips or product suggestions:
Keep furniture away from heating and air conditioning sources to prevent loss of moisture in wood and out of direct sunlight to avoid bleaching of wood. To prevent gouging and scratching, use felt backing on lamps, ashtrays, and accessories. Always use place mats under plates and hot pads under serving dishes. Use coasters under hot and cold drinks. Do not set synthetics, rubber or plastics directly on wood finishes, since they might contain chemicals that will damage the finish. Do not place newspapers and magazines on wood surfaces, since the ink will bleed into the finish and eventually damage wood.
a. To remove cloudiness: Rub surface with cloth dipped in solution of 1 tablespoon of vinegar in a quart of water. Rub with grain until surface is completely dry. Follow with application of furniture oil or polish.
b. To remove water rings: Rub with a mixture of equal parts white vinegar and cooking oil, rubbing with the grain.
c. To remove heat marks: Coat area with mayonnaise and let stand for one hour, and then wipe off.
d. To remove burns: Rub affected area with finest grade steel wood rubbing lightly with the grain until all burnt material is smoothed off. Follow with application of furniture oil or polish.
e. To remove candle wax drippings: Scrape excess wax off gently. Apply warm (not hot) iron, over white cloth to absorb residue. Follow with application of furniture oil or polish.
f. To remove dents: Wipe dent with warm water. Apply a compress of paper soaked in warm water to swell the wood fibers. Let sit for 30 minutes, and then apply a warm (not hot) iron over cloth until dent is gone. Follow with application of furniture oil or polish.
How To Keep a Rug in Good Condition:
Rug wear is inevitable, but frequently rotating your rug 180 degrees will help to equalize the effects of wear.
Moths are another threat to a rug's longevity. To protect it, move your rug from time to time, and keep it exposed to air and light.
Continual exposure to sunlight will eventually cause a rug's colors to fade and make the fabric brittle. Display your rug in such a way that it is protected against too much sunlight.
If you intend to store a rug for an extended length of time, make sure that the rug is clean. It should be treated with moth repellent prior to storage and should be rolled tightly. Wrap the rug in a cloth or a sheet, do not use plastic because the rug needs to breathe. Store in a dry, cool well-ventilated area to avoid mildew or heat damage.
Why Use a Rug Pad?
Pads help stabilize the rug and prevent slippage; they provide a breathing space between the rug and the floor; and they provide additional sound absorption.
When a rug is placed on a hard surface floor, a good pad is an important safety issue. Small rugs can be particularly dangerous if a pad is not used. Even larger rugs with furniture on them will tend to move around without a pad. A good pad is also instrumental in extending the life of your rug.
Dirt tends to accumulate in the pile of the rug and without a pad it will abrade the foundation of the rug and cause premature wearing.
While many styles of pads are available, the best choice is usually a thin solid pad. Cheaper pads will break down quickly and thick or soft pads will cause the rug foundation to stretch when weight is placed on the rug. For this reason, it is usually not recommended to place rugs over thick pile carpeting.
How to Restore and Clean Rugs?
Pile crushed by heavy furniture can be restored by spraying the area with a little water and brushing with a soft brush.
Always vacuum your rug in the direction of the nap (to determine the nap, run your hand across the pile towards the fringe, the light side is the nap).
Avoid using the vacuum on the fringe as the fringe may break or tear.
Sweeping your rug with a broom weekly is highly recommended to remove dirt and bring out the sheen.
NEVER steam or chemically clean your rugs as these cleaning methods deplete the natural oils of the pile.
Do not put your rugs in the washing machine.
Deal with spills immediately. Use a spoon to scoop up as much of the spill as possible. Dilute smaller spills with water. Blot, but do not rub, the area with a paper towel until all moisture is removed. Always blot from the outer edges towards the center to prevent the spill from spreading.
Common food or beverage stains can be treated with the same mild detergent used to wash delicate clothes, diluted with a small amount of water.
An ink stain from a ballpoint pen can be removed by spraying the area with hairspray, letting it dry and brushing the area with a water and vinegar solution.
Oil-based stains are best treated with dry cleaning solvents
The Enemies of Furniture:
Many common problems in furniture care are caused by the elements. If you are aware of these troublemakers, the resulting damage can easily be avoided.
Sunlight's ultraviolet rays can damage wood finishes. Arrange furniture out of direct sunlight, use sun screening drapes during intense sunlight hour, rotate furniture in place and in room arrangements.
Liquid spills will damage furniture if not removed promptly. Use coasters under beverage glasses, saucers under cups and flowerpots. If a spill occurs, immediately blot it gently without rubbing the surface.
Heat creates a chemical change in the furniture finish. Which can result in a white spot. Use protective pads under hot dishes, pizza boxes, utensils or cooking appliances.
Cyclic changes in temperature can damage furniture. Direct heat or air blasts, of air such as those found from central heating should be avoided because they cause extreme localized drying of the wood. Extreme and rapid humidity change may cause expansion or shrinkage of wood leading to cracks, gaps, joint or finish separations.
Tips and Suggestions:
Be sure to use the sauce type of polish consistently. Your furniture will appear cloudy or streaky if oil-based and wax-based polishes are interchanged.
Always use fine furniture polish when dusting. Never dry dust, as it could cause microscopic accumulated scratches on your furniture surface. Remember to change dusting clothes frequently since dirty cloth may scratch your furniture's surface.
Spray your furniture surface evenly, but not too generously. Wipe in a circular motion with soft clean cloth to clean and loosen the old polish.
Then, buff until completely dry for a beautiful shine and a smudge-resistant finish. For wood trim, spray polish on the cloth first, and then dust.