"WE CARE ABOUT YOUR FURNITURE JUST AS MUCH AS YOU DO AND IT SHOWS IN OUR EXEMPLARY WORK!"
On-site or in-shop methods and products are chosen to make repairs permanent, invisible and to return furniture to its original or even better condition.
The Professional Team of All Furniture Services® is capable of handling, as well as carrying all tools and materials necessary to provide immediate on-site: Inspections, Reports, Cause Determination, Estimates, Repairs, Antique Restoration, Upholstery, Cleaning, Color Matching, Re-Finishing, Painting, Leather and Vinyl Dyeing, Parts Installations, Antique and Pieces of Art Restoration, Caning, Disassembly and Re-Assembly, Deluxing, Electrical and Light troubleshooting, Power and Manual Sleeper and Recliner Mechanism Work, Wood, Veneer, Laminate, Metal welding, Glass, Plastic, Film, Acrylic, Stone Work, and much more.
Furniture is one of the most use items, made from different materials, serving many different purposes: residential, commercial, hospitality, medical, stationary, functional, mechanical, power operated, mechanism controlled, reclining, rocking, swiveling, integrated with automation, lights, chargers, 3D massager's, heat components, multi-function controls and more, because of such differences no one person or freelancer can be proficient and have enough experience to handle them all. This is another reason why we are superior in what we do as we always assign/send the best qualified professional technician for your specific task.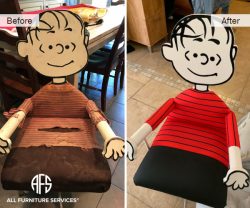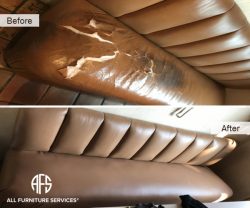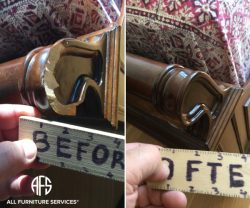 Our technicians will write detailed inspection reports and estimates which are accepted by most retailers, manufacturers, storage & moving companies and insurance claims departments.
We do our best to work with our customers schedule for utmost convenience, best prices and guaranteed workmanship.
Furniture is bulky, it comes in different shapes and sizes, and is not always easy to transport, also important to mention Antique and hardwood items are not good with fast climate, humidity level changes and such could cause damages from warping to cracking, shrinking and expanding, joint separations, making things like wooden slides or tracks not to operate properly, doors or drawers not to close or open right and leather to develop spews. Because of these many details most repairs and services are offered to be done on-site at customers location, and only large complete redo, full re-upholstery, refinishing or complex / unique jobs are handled in shop. If furniture requires in-shop work we can certainly arrange pick-up and delivery.
Servicing multiple states and having technicians that specialized in different materials and fields as well as having multiple shops working from upholstery to finishing, metal work, antiqued mirror, silvering, glass and stone work, plastic and acrylic, bed/mattress inspection, pieces of art or antique restoration to general repairs and installations. Teams that handle disassembly and assembly to fit items that have difficulty to pass into small doorways, elevators and stairways like couch, sofa, sectional, bed, headboard, armoire, china, eames or knoll chairs, as well as carpentry teams that handle wall, floor, ceiling repair work allows us to handle everything needed by best rules and procedures that were set in place and constantly improving by years of experience and hundreds of thousands of services provided to our customers and business accounts/partners.
All Furniture Services® is also an official licensed warranty service repair company, claims resolution provider as well as facility maintenance handler.
In most cases, we can determine the age of the damaged areas, see if the items were previously repaired, and because we work with so many companies we will also be able to assist if there are any known issues, recalls or manufacturer defects on the damaged item, as well as assist on obtaining parts that may be needed when possible.
All our jobs have overall, before and after pictures, as well as all necessary details, tag info and measurements when needed.
As we service many logistics, shipping, final leg delivery, moving and insurance companies, we have teams that handle repairing and restoring, painting and finishing scratched, gouged or dented walls, hardwood floors, doors, elevator, brick, metal or wood panels, light fixtures, picture and mirror frames, mounting brackets, cabinetry, fountains and more.
We use best technologies, have great experienced craftsman's, proper supply and the latest equipment on hand (Lathe, Mill & Duplicator), allows us to replicate, duplicate, manufacture and repair almost any broken or missing parts, legs, spindles, finials, trims, moldings, curved and shaped metal, glass and much more.