Whether it's in your home, office, vehicle, boat or aircraft… leather upholstery says "quality" like nothing else. But when that beautiful – and expensive – leather gets damaged, you may think it's ruined.
We're a professional service company specializing in leather and vinyl repair, dyeing and upholstery services. Our experienced technicians can repair cuts, tears, cigarette burns, leather, vinyl, dyeing, color matching, scratch repair, tear repair, discoloration, worn area, burn hole, seam, upholstery, fabric, vinyl, paint, interior, dashboard, door, seat, headrest, scuffs, open seams, water or heat marks, fading, discoloration, pet damage, cracking and peeling, wear and tear, and more. We'll clean; re-dye or change colors, and re-grain, leaving your leather as good as – or better than – new!
All Furniture Services® can provide you with the best technique to make sure the interior in the best condition it could be.
It is unavoidable that leather, vinyl or upholstery seats and interior will wear and age over time, some more than others. Cracked and worn out leather is still able to be dyed and conditioned back to good shape.
Don't let a few cracks and worn out areas decrease the value and appearance!
We have state of the art supplies that can handle most repairs such as; rips tears, gouges, stains, fading, scratches, cigarette burns, scuffs, seams, touch ups, and much more! We will turn your interior back to great shape as if it were new again.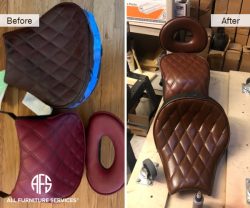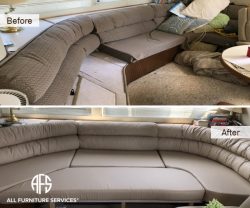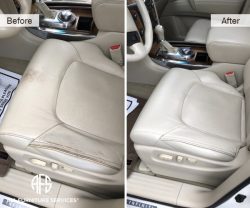 Our company has been in the business for many years we obtain plenty of experience to help you take care of repairs on all of your leather products. Our specialists are known for their thorough attention to pattern matching and seaming. They are skilled in any variety of detailing you may want.
We upholster with only the most select, longest durable materials to offer many years of continued service. We as well custom dye stain and restore fabric, leather, vinyl, finish wood, metal and plastic, turn leather to be ink stain resistant or silky soft.
Our Specialist are craftsmen at its best; adept in redesigning your existing interior. AFS can do complete or Partial Re-upholstery, Tear Repair, Spot Cleaning, Full Machine Cleaning, Cigarette Burn Removal, Hand Stitching Machine Stitching, Re-Stuffing, Touch-Ups, perforated leather repair, color matching, dyeing and much More!
Maybe you're just simply bored with the color of the interior and want a complete color change? We can repair, customize, color change, dye, or re-upholster: seats and panels, steering wheels, dashboards, door panels, plastic trims, gear sticks, handbrakes & much more.
We repair all leather, vinyl and upholstery from the inside of your automobile, motorcycles, airplane, trucks and boats to the items you use every day such as your commercial, residential or hospitality furniture, jackets, luggage's, high end purses.
We repair, restore, clean and dye everything; from animal damages, pulls, scratches, tears, burn holes and cracking to every day wear and tear or discoloration. We can restore that old worn leather to look great and brand new, if needed we will replace a section or do complete re-upholstery. We can re-grain, color match and re-dye the color to bring out the brightness that it once used to have.
Leather interior can prove to be a great investment for the inside of your vehicle due to the beautiful appearance and durability to last longer, however over some time it could become worn and lose its color. This problem could also happen with the furniture that's in your home. You use the piece everyday which means the natural light or oils and such from our skin could stain or discolor wear and tear the leather. Many people then seek out help to restore their once beautiful interior/furniture back to the way it was originally.
We can provide you with all the upholstery restoration services you need, and because we provide general furniture repair, restoration and cleaning services from refinishing to frame, upholstery repair to recreating missing parts, disassembly, assembly, re-padding we'll see that those nicks, scratches, water marks, pet stains, or other damage is taken care of.

We can work on your location or you can come to our shop. We are equipped with all the tools needed to finish the job at hand.
Our quality and integrity have been recognized by NBC news, New York Magazine, and Time Out New York.
Furniture is our livelihood. We have worked in furniture repair industry for many years and have become the pre-eminent authority on how to help your cherished pieces remain beautiful and functional for many years.
Color matching & Re-dyeing to eliminate fading and restore the color, seal it, protect it
Pet damage such as chewed leather repair and odor elimination, cat pulls and scratches
Restoration, replacement, partial or full re-upholstery
Cigarette burns, sliced by knife damages, cuts and tears of all sizes
Elimination of stains, spills, ink marks, water & heat rings, etc.
Repair of sagging cushions using hypoallergenic down substitute, feather and down, horse hair, soft polyester, and foam, pad and web
Repair and replacement of springs in beds, couches, chairs, and sofas
Reinforcement & repair of furniture frames (wood, glass, and metal components as well as mechanisms)
Restoration and cleaning of wood, plastic, glass, marble, and other hard surfaces
Complete Re-upholstery
Partial Re-upholstery
Tear Repair
Spot Cleaning
Full Machine Cleaning
Wrinkle Release
Cigarette Burn Removal
Hand Stitching
Machine Stitching
Re-Stuffing
Touch-Ups and More!

Patching
Cleaning and Conditioning
Dyeing
Cigarette Burn Removal
Scratch Repair
Discoloration
Hand Stitching
Machine Stitching
Re-Stuffing
Touch-Ups and More!