On-site or in-shop professional services offered to all: Manufacture's, Stores, Retailers, Designers, Vendors, Warehouses, Medical Facilities, Offices, Hotels, Restaurants, Construction, Moving, Logistics, Delivery, Warranty, Insurance and Protection Plan Companies as well as Individual Customers.
All Furniture Services® offers residential and commercial services, professional extraction cleaning, organic, non-toxic cleaning, stain or odor removal, steaming, dry cleaning, S-code solvent cleaning, blood/urine/mold removal, leather and vinyl conditioning, color matching and dyeing, wax wash, sealing sticky surfaces, making leather or vinyl ink resistant, applying fiber guard, defense or Scotchgard to fabric, upholstery, rug or carpet, treat the furniture for/from infestation by insects, making UV resistant, or adding Nano-technology clear transparent protective urethane film to any glass or mirror surface to make it kid safe – almost impossible to crack or chip.
We also are experts in material codes, types and accordingly in cleaning, dyeing, stain, mark removal, will it be an ink mark, blood stain, red wine, urine or food it is important to know the chemistry well to apply proper cleaning procedure and methods.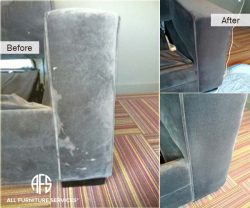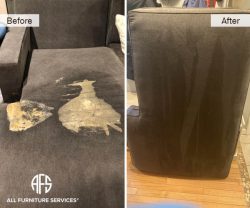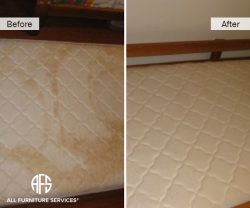 Leather and Vinyl can be also be patched, filled, backed, color matched and dyed as well as re-reproduce the grain, distress, cleaned and conditioned, waxed or ink stop applied restoring and protecting to its glory.
Clean or Protect: All Furniture Services also provide service in extraction and steam cleaning, dry, solvent s-code cleaning, but most importantly we also offer Scotchgard, fabric defense, fire retardant and much more.
We provide an enjoyable experience that will contribute to the beauty of your home for many years.
All of the above and many other problems can be eliminated by adding years and beauty to your new or used, antique or modern furniture (upholstered sectional, couch, sofa, loveseat, armchair, dining room chairs, cushions, benches, pillows, headboard, ottoman, sleeper, sofa bed, recliner, mattress, rug, carpets, wall panels, china, table, buffet, bed, dresser, nightstand, armoire, daybed, wall unit, entertainment center, desk, mirror, vanity, chandelier, frames, pieces of art, antique, kitchen cabinets, banisters, doors, pianos, sculptures, ceramic, glass, murphy bed, office furniture, hospitality, medical, partitions, statues, car, airplane, boat, kids furniture, etc.).
AFS is also an official licensed and insured warranty service Repair Company, claims resolution provider as well as facility maintenance handler.
We are known by our quality, reliability, affordability, pace and on-time service.