Do you have a valuable furniture, piece of art or antique furniture that was passed down from generation to generation, items of great sentimental—or monetary—value that needs to be brought back to life and restored to its original beauty? You would like to make it look great again, well maintained, properly preserved or again operational and presentable, bring backs its look and value?

We have highly trained experienced antique preservation and restoration professionals that you can trust with this type of work.

Methods and products are chosen to make repairs permanent, invisible and to return furniture to its original or even better condition.

Some items may carry sentimental value, be an antique which may need to be preserved, restored and or partially re-upholstered using original material. Our professional team of experienced upholsterers will assist finding best options available.

We do our best to work with customers schedule for utmost convenience, best prices and guaranteed workmanship.

Furniture is bulky, it comes in different shapes and sizes, not always easy to transport, also important to mention antique and hardwood items are not good with fast climate, humidity level change and such could cause from warping to cracking, shrinking and expanding, joint separations, making things like wooden slides or tracks not to operate properly, doors or drawers not to close or open right, leather to develop spews, because of those details most repairs and services offered to be done on-site at customers location, and only large complete redo, full re-upholstery, refinishing or complex / unique jobs handled in shop.

If furniture requires in-shop work we can certainly arrange pick-up and delivery.

All Furniture Services® will give your piece the careful, loving restoration it deserves. AFS has proved its commitment to discerning customers throughout the country.


All Furniture Services® rated the top repair and antique restoration company by most agencies and companies. Winner of Angie's List Esteemed Super Service Award for many years and counting, for providing exemplary services, Recognition for All Furniture Repair & Disassembling Services as Best of City Search, Award of Best Furniture Service Company in Furniture Repair & Refinishing by US Local Business Association, Spotlights on NBC News and Univision, Multiple Publications including New York Magazine, Time Out New York and many other rewards and acknowledgements, along with long list of business references, testimonials and individual customers feedback. Awarded Certificate of ISO 9001:2000 High Standard.

Whether you need touch up work or full restoration or refinishing, our trained professionals will see that the job is done carefully and correctly.

We'll replicate original materials and finishes as much as possible to retain the value of your piece.

We can repair any piece of furniture as well as material; whether it is leather, wood, vinyl, fabric, mirror, glass, stone or metal.

Our services include cleaning, finish restoring, refinishing, staining, waxing, French polishing, hand caning, carving, restoration of gold or silver leaf, remaking missing parts, filling-in chips and scratches, heat/liquid or ink mark removal, wax build up removal, scratches and gouges repair, fill-in, touch-up, dents, nicks and chips repair, frame work, padding, spring and support rebuild, re-stuffing, dyeing, color matching for leather/vinyl, desk top restoration, ornaments, antiqued glass and mirror, silvering, finials and metal work, upholstery/re-upholstery for all pieces of furniture and art, as well as including recreation of missing parts or hardware, wood conservation, and much more for all types of antique furniture and pieces of art.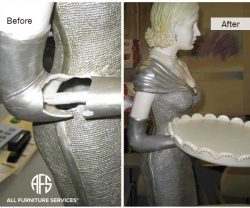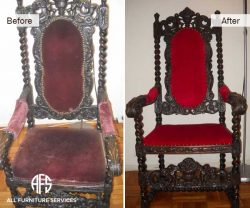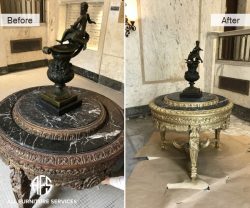 In most cases, we can determine the age of the damaged areas, see if the items were previously repaired.
Our professional team is capable of handling a multitude of problems: repair, restoration, touch up nicks, dents and scratches, color matching, refill chips, recreate shapes, fill-in scrapes, glue joints, re-gluing, reinforcing, recreating, caning, dyeing, gold leaf, gilding, open seam, animal pet damage, cat pulls, defective mechanisms, recliner motors, pull handles, remotes, adapter, controls, connectors, gas cylinders, struts, dampers, swivel bases, rockers, absorbers, release system, knobs, cables, frames, casters, chair base, slides, fasteners, levelers, glides, stretch, zippers, pneumatic systems, snaps, hooks, hinges, damaged and broken frames, sagging seats, foam, padding, Dacron, broken springboards, springs, webbing, rips, cuts, holes, burns, stains, ink marks removal, water and heat rings, spills, smoke and water damages, enhancements, worn discolored finishes, laminate, veneer, grain matching, polish, refinish, upholstery, polishing, cleaning, steaming, extraction, French polishing, buffing, waxing, knock down, take apart, dismantle, disassemble, (disassembly / take a part), assemble, handyman service, etc.
All of the above and many other problems can be eliminated by adding years and beauty to your new or used, antique or modern furniture (Credenza, Settee, Couch, Sofa, Loveseat, Chair, Ottoman, Sleeper, Sofabed, Recliner, China, Table, Buffet, Bed, Dresser, Nightstand, Armoire, Sofa-beds, Daybed, Wall unit, Entertainment Center, Desk, Mirror, Chandelier, Frames, Kitchen Cabinets, Banisters, Doors, Pianos, Sculptures, Ceramic, Wall Bed, Murphy Bed, Office Furniture, Partitions, Statues, Frames, Panels, Woodworking, etc.).
We use best technologies, have great experienced craftsman's, proper supply and the latest equipment on hand (Lathe, Mill & Duplicator), allows us to replicate, duplicate, manufacture and repair almost any broken or missing parts, legs, spindles, finials, trims, ,moldings, curved and shaped metal, glass and much more.
"For Over A Decade, Our Primary Goal Has (And Always Will Be) To Service Our Clients With The Utmost Professionalism And Quality Work That Continues To Set Us Apart From Other Companies In Our Industry"