All Furniture Services® can provide you with just about any type of furniture, upholstery, leather, mechanism and wood repair services that you may need.
There is no greater feeling than walking into a guest room, an office or medical facility and seeing that every piece of furniture has a sense of sparkle.
When really nice furniture is broken or has lost its looks, how the repair is handled in the first attempt is critical. At All Furniture Services®, we understand the importance of making a good impression and satisfying industry rating requirements. That is why we work hard to keep your furniture in pristine condition by making invisible repairs, removing scratches, water marks, stains, burns, and repairing every day wear and tear.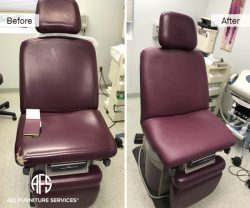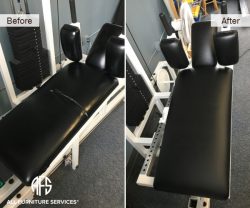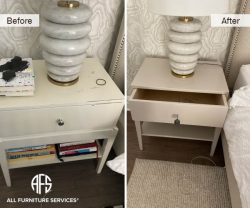 In the hands of our highly skilled technicians, your furniture will return to its original beauty and regain many more years of service. Our craftsmen will work with you to hand tailor the appropriate process for your furniture. Your furniture represents a substantial investment. Allow Furniture Services to help protect that investment by letting us provide you with our cleaning, repair and restoration services.
People are constantly in contact with the furniture, causing the furniture to become worn and begin to become damaged over time, hardware gets loose, upholstery stained, finishes discolored. Our technicians are skilled enough to deal with the worse of situations. We make the majority of items that are in need of repair to look new to the best of our ability.
Our company should not be under estimated with the work that we can provide you with. The possibilities of what we can repair are endless! Stairwells and elevators could become damaged and could be a difficult place to be repaired. If you are working with us then you can feel free to let go of any worries or doubts you may have! We can and will get the job done and bring life back into your furniture. We work with many high end hotels and they were all satisfied with the work we have provided for them, so we can provide as many references as you may require.
You can see a few examples of the work we have done in the gallery that is listed in the menu above or you can read references, testimonials and feedback.
Upholstery Services

Complete Re-upholstery
Partial Re-upholstery
Tear Repair
Spot Cleaning
Full Machine Cleaning
Wrinkle Release
Cigarette Burn Removal
Hand Stitching
Machine Stitching
Re-Stuffing
Touch-Ups and More!

Leather/Vinyl Services

Patching
Cleaning and Conditioning
Repairs
Re-dyeing
Cigarette Burn Removal
Scratch Repair
Discoloration
Hand Stitching
Machine Stitching
Re-Stuffing
Touch-Ups and More!

Wood Services

Restoring
Refinishing
Staining
Cleaning/Polishing/Waxing
Heat/Liquid Mark Removal
Scratch Removal
Dent Repair
Frame Repair and More!
Our professional team experts in handling a multitude of problems:
We pride ourselves in providing our customers with exceptional service at an affordable price!
AFS have been rated as the #1 Furniture Repair, Restoration and Installation Company for which we have received multiple awards and certificates of excellence.
Medics understand you have specific needs and concerns when initiating a restoration project, particularly regarding the time required, odor and the impact on space during high-occupancy periods.
For that reason, you can expect us to:
♦ Work expertly around your constraints and nuances
♦ Accommodate schedule and occupancy patterns, making the process as convenient as possible
♦ Offer ideas along with helpful tips on how to renew or update your furniture, as an alternative to making costly replacements.
For large or commercial projects we do service entire US however able to Travel World Wide