Repair or Replace?
Customers and Companies have many options when it comes to dealing with damaged furniture. Pieces can be repaired, restored and sometimes replaced. Furniture is a man-made product and there is always the possibility to repair or restore it to its original glory. The main factor in determining whether to repair a piece is how cost effective the process can be, ignoring many other facts.
Caring for our green planet, saving time and/or cost on pick-up/delivery, packaging & handling fees, exchanges, new purchases, replacement, disposal and sentimental value are also important factors in the decision-making process. We are here to assist you with those decisions by providing honest and professional options and suggestions from highly skilled technicians.
Many of our customers are surprised on the time, resources and expense we can save them by offering multiple repair and restoration options as well as taking a unique approach to each individual situation.
There are many choices for customers to choose from but we all know nothing can beat experience and knowledge. Let us take care of things right for you the first time. Our long list of customer's feedback, company references, the largest portfolio of business accounts as well as hundreds of thousands before and after pictures will be proof that we are the right choice for your needs.
We are known for our QUALITY, RELIABILITY, AFFORDABILITY, and CONVENIENT ON TIME SERVICES!
AFS eliminate problems and find ways to get longevity and beauty for your furniture so it can serve you longer and better as well as save money and time trying to get a replacement. We can even change its look, size, shape and material, or add details that may be an even better option than replacement.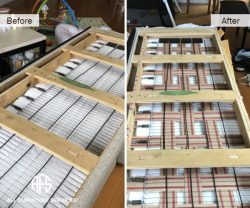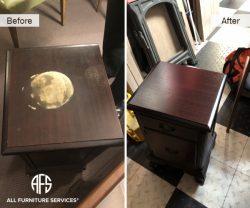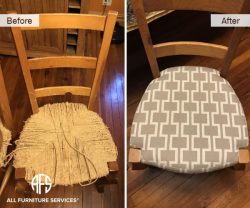 Repairs and Services:
Our Professional Medics do it all from adhering broken Plexiglass/ acrylic together in a way that the connections are transparent, gilding or oxidizing metals, changing padding type, adding channel tufting, adding protective safety clear films to mirrors and glass, refurbishing power control units or adding/ installing light fixtures, power automation to beds and recliners, restoring antiques and paintings, customizing size and shape, repairing discolorations or animal damages, color dyeing of leather and vinyl, using fiber fill technology, turning aniline leather to a protected and finished leather, making leather ink resistant or fabric stain proof, as well as installing or fitting any furniture of any size to any space needed, disassembling – assembling, couches, armoires, headboards to pass through unique and tight stairways, elevators or doorways, basements or attics, customizing shapes and sizes, recreating parts or making damages repaired and restored to unbelievable results and conditions.
Parts and Services:
Our professional team handles a multitude of problems: repair, restoration, touch up nicks, dents, gouges and scratches, color matching, refill chips, recreate shapes, fill-in scrapes, packing marks, glue joints, re-gluing, reinforcing, recreating broken/missing pieces or decorative molding, caning, dyeing, gold leaf,gilding, open seams, animal pet damage, cat pulls, defective mechanisms, recliner motors, pull handles, remotes, adapter, controls, connectors, gas & hydraulic cylinders, struts, dampers, swivel bases, rockers, absorbers, release system, knobs, cables, frames, casters, chair base, slides, fasteners, levelers, glides, stretch, zippers, pneumatic systems, snaps, hinges, damaged and broken frames, sagging seats, fiber fill, foam, padding, Dacron, broken springboards, springs, webbing, rips, cuts, holes, burns, stains, ink mark removal, water and heat rings, spills, smoke and water damages, enhancements, worn discolored finishes, laminate, veneer, lacquer, grain matching, refinishing, upholstery, polishing, cleaning, steaming, extraction, French polishing, buffing, waxing, knock down, take apart, dismantle, disassemble, (disassembly / take a part), assemble, handyman service, etc.
Items Serviced:
All of the above and many other problems can be eliminated and add years and beauty to your new or used, antique or modern furniture (Couch, Sofa, Loveseat, Chair, Ottoman, Sleeper, Recliner, China Cabinet, Table, Buffet, Hutch, Bed, Crib, Dresser, Nightstand, Armoire, Sofa-bed, Daybed, Wall unit, Entertainment Center, Desk, Mirror, Chandelier, Frames, Kitchen Cabinets, Banisters, Doors, Pianos, Sculptures, Ceramic, Wall Bed, Murphy Bed, Office Furniture, Partitions, Statues, Frames, Panels, Woodworking, etc.).